A blog I saw recently had a counter with a large, blinking number '40' - as in 40 days until Christmas! Suddenly the newspapers are full of toy ads and I already know every word to "I Saw Mommy Kissing Santa Claus" just from one trip to the grocery store.

I guess it's time to put on my Santa hat and get into full gifting mode.

Oh, and if you like vintage clip art graphics like this one, I recommend the
Graphics Fairy
's cool
site
.
I've been squirreling away completed projects all year, but there are still one or two things I want to make, and I thought I'd share some ideas for fast, giftable items (all photos to follow not mine, see source links).
Gudrun Johnston's
Shetland Shorty
shrug from
Knitty.com
is sweet, simple and uses popular fingering-weight yarn.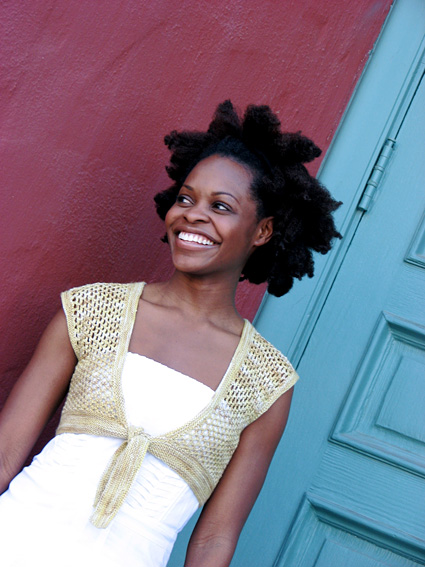 My Estonian blogging friend
Anna
has some beautiful patterns for download on Ravelry
(
her username is
Kuduja)
, including this lace shawl
Sivilla
.
Shawls and wraps make great gifts as they're very popular in current fashion trends, practical and useful items, and you don't have to worry about sizing for the recipient.
Now might be a good opportunity to try cabling if you've never done so. It's a lot easier than you might think! You can't go wrong with Knitty.com's classic
Fetching
cabled mitts by Cheryl Niamath,
or it's more male-oriented version,
Dashing
.
I love that fingerless mitts let you to keep your hands warm while driving, and still have a firm grip on the steering wheel. And these make perfect gifts for teens or anyone who does a lot of texting.
For a super fast option, you might consider a very easy pattern I knitted for my husband last year, Ysolda Teague's
Garter Stitch Mitts
(seen photo at the top of this post). My husband works at a computer in a chilly office building and he loves these for on-the-job warmth.
If lace is more your thing I (cough, cough) recommend my Greyhaven cowl,
or for a super speedy project, the Lavande neckwarmer.
Both are easy introductions to lace knitting.
And it wouldn't be the holidays without all the knitting magazines' special editions, including
Vogue Knitting
's recent
Holiday 2010
issue.
This issue is a mix of styles, but I'd say on the whole,
Vogue
played it safe, rather than daring, with this one.
There does seem to be a little something for most tastes, albeit items more complicated to make than those discussed above and more likely to be worn by you for holiday revelry. If you've already completed your gift preparations, maybe a little reward to yourself is in order?
The flowing lines of Mari Tobita's "
Raindrops
" dress are simple and flattering.
Norah Gaughan's classic cabled yoke turtleneck is gorgeous in lush angora-blend tweed.
Several smaller items including a leaf lace capelet,
and a selection of delicate, traditional lace scarves could serve as gifts or festive accessories, depending on yarn choices.
For more everyday-type wear, Wayne's slouchy mohair stripe pullover.
By the way, according to their website, all of
Vogue Knitting
's patterns are on sale for $2.99 each now through November 19th.
I hope this gets your creative juices flowing whether making something smashing for yourself, or a nice gift for someone else. More gift ideas, reviews, and holiday recipes coming soon!