I read recently that knitting is the single largest interest group represented on the Internet. Along with
Knitty.com
,
Ravelry.com
is, of course, the biggie for knitters, crocheters and fiber enthusiasts of every stripe, but Facebook, Twitter, and thousands of blogs and podcasts help promote this activity.
Ravelry members can search for the newest and hottest patterns (check out the photo above with my
Sothia
pattern in the top 10 for all of the last month -
squeee!!
), including photos of thousands of projects knitted from those patterns and knitters' comments about them, and find information about yarn, yarn shops, fiber festivals, knitting, crochet and spinning techniques, and
much
more.
An excellent story that's been all over the knitting Internet since it ran in the July 6th, 2011 issue of
Slate
.com, outlines the merits of Ravelry, and compares it to community-based giant Facebook.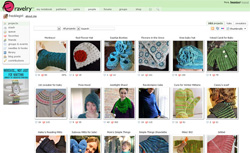 An invitation to participate in the beta testing phase of the new
Google+
community recently came my way and I have a feeling it too will eventually have success as a community for knitters.

Thanks very much to Gill and to Hal for sending me links.
I love using Ravelry but haven't gotten nearly as involved on Facebook. Quite frankly, I simply don't have the extra time to devote to being involved in more online activities more than I already am.
I'd rather be knitting!
However, I can see how people will enjoy and benefit from different aspects of internet knitting tools and groups.
And then there's Twitter. I don't really have all
that
much to say, but I did finally break down and sign up for a
Twitter account
after a friend invited me to take a Twitter seminar with her.
In the past few days I've, surprisingly, enjoyed reading updates from accounts I 'follow', including knitting tips, yarn shop updates, and blog and podcast announcements, like those from favorite podcasters
Stash and Burn
,
The Knitmore Girls
, and the
Knitting Pipeline
(more detail on these and other shows in an upcoming post).

A lot of seemingly random thoughts and, shall I say, 'quirky' and somewhat amusing tweets shouting out about knitting tweeters' recent activities, the bodily functions of their children, and what their hotel room smells like, are also frequently posted.
I've replied to a few tweets, figuring that most people who tweet to their large interest groups using a worldwide, totally public forum, are happy that someone is reading their posts, and have connected already with several really nice, interesting knitters and knitting-writers. I'm still learning the ropes, and don't know how much time I will really have for it, but again, I can see the benefits for many.
Tweeting by me will probably happen only sporadically, but should prove occasionally useful in sharing small bits of knitting information, announcing new blog posts and pattern info., or keeping my friends and family up on my doings. I promise to not tweet about bodily functions.
Don't forget about my 'blogiversary' free knitting pattern and yarn giveaway coming up this month!
Comments on any post through July 21st, 2011 qualify for entry, full rules are outlined in this post.
The garden is growing like crazy now that the warm weather has arrived. I picked a huge basket of snap peas, any others lingering at this point will be left to harvest for next year's seed.
My husband has been working on a rose arbor we designed for the climbing New Dawn rose we planted last year.
I've harvested masses of garlic already, currently drying in the sun awaiting braiding for storage and gift-giving.
The herbs are beyond profuse. Chives, parsley, cilantro, onions, rosemary and thyme are all so vigorous I've been clipping, mincing and drying the extras almost daily, so I decided to concoct a recipe to make use of as much as possible.
I hope you enjoy this deliciously simple appetizer made from fresh
chèvre
goat cheese crusted with dried herbs. I fell in love with this cheese on a trip to France a while ago, and always look for opportunities to use it. If you do not care for the strong flavor of, or do not have, goat cheese available, substitute any semi-soft cheese of your choice.
Many combinations of your favorite herbs work well for this recipe, so you might like to experiment by adding a little crushed red pepper, chipotle pepper, wasabi or horseradish powder, dried, minced sweet bell peppers, or anything else that strikes your fancy. The mixture may be used right away or stored, tightly covered, for up to three months. After that, many herbs lose their potency.
Try serving this cheese as an appetizer with crackers, toast points or celery sticks, or topping Portabello/a mushrooms caps with herbed cheese slices and broiling for a few minutes. It also makes a delicious omelet filling.
Truknit's Savory Herb Crusted
Chèvre
Ingredients:
1/4 tsp. coarsely ground black peppercorns
1/4tsp. coarsely ground green peppercorns
1/4 tsp. coarse salt (I use sea salt), to taste
1/4 tsp. rosemary
1/2 tsp. dried, minced garlic, or 1/4 tsp. garlic powder, to taste
1/2 tsp. cilantro
1 tsp. shallots
2 tsp. chives
2 tsp. parsley
4-6 oz. roll fresh
chèvre
goat cheese
Directions:
In a small bowl thoroughly mix dry ingredients.
Spread herb mixture onto a piece of waxed paper or large plate, roll fresh cheese over the mixture until it is thoroughly coated. Coat the ends of the roll if desired. Pat loose herbs onto any bare spots on the cheese.
Let stand 30 minutes at room temperature before serving.
Bon appétit!